As we all know, the popular narrative surrounding Brexit Britain's property market has been that uncertainty will damage buyer sentiment. However, the figures tell us that 2016 has been a reasonably strong year for property, and there is reason to believe it will continue upwards next year.


Figures just released by the Bank of England show that £128.73bn was lent by UK Banks to buy UK Property in the first half of 2016, up from £106.7bn in the first half of 2015. In Q2, £68.12bn was loaned by UK banks in new mortgages for house purchases - the highest it has been since 2014.


Even though the Bank of England won't release Q3 figures until December, HMRC have published their own preliminary data to suggest Q3 will be stronger than Q2, with a potentially massive growth of buy to let landlords coming into the housing market in that time.


And it's not just buy to let landlords who will flourish. First time buyers are also a lot more confident. Three factors are causing this:
Low (and negative) inflation has had a tangible impact on household finances;
More job security for FTBs;
Historically low interest rate.
These things are giving us all the ingredients for a strengthening property market. In real terms, of the £68bn of mortgages lent in Q2, £15bn (22pc) was lent to first-time buyers, the highest proportion since 2014.


The table below shows us how much money cash buyers, mortgage buyers and first-time buyers are paying for their properties across the UK in November, plus the changes in those prices over October 2016.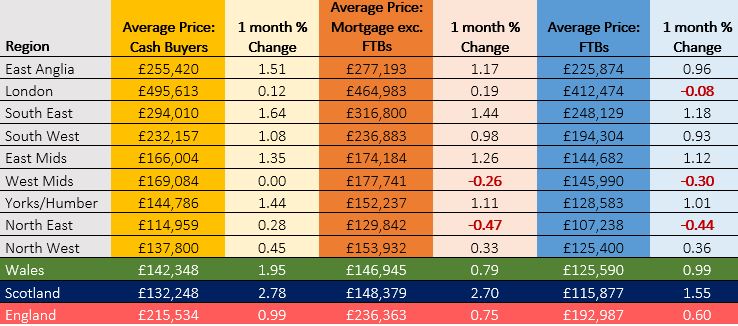 The figures above show us that in all but five of 27 cases, prices rose from October to November 2016 across the UK for house buyers at similar, steady rates.


Only one figure (cash buyers and FTB buyers in East Anglia) was greater than half a percent's difference.


And in the table below, showing prices in the 12 months from November 2015-16, you can also see across the three different buyer categories that price growth rates are very close within regions - showing that no buyer demographic is being left behind or benefiting disproportionately over another.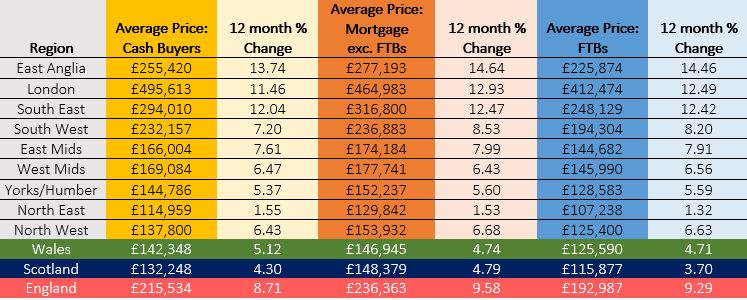 The significance of these figures is that they show prices are rising, at a healthy rate, for all buyer types - cash buyers, those with a mortgage, and first-time buyers.


Indeed, the differences in price between FTBs and other people buying with a mortgage is less than half a percent across all England regions.


Only numbers like these suitably explain how the UK property market is working. The newspaper headlines tell us that FTBs are being priced out the market, but actually the prices they face are not significantly greater than the ones other buyers are paying. So, in these terms, the UK housing market is a healthy one.


It goes to show how the combination of low mortgage rates and a stable job market is having a positive effect on the UK market. And these are the reasons why - while there is undoubtedly more caution in the market at present than a year or so ago (among borrowers and mortgage companies alike) - people are simply in a better position to commit to a home purchase.