Energy efficiency ratings and EPCs provide extremely useful information about a property – especially if you're thinking of buying or renting.
But understanding a property's energy rating and what it means can be tricky.
In this guide, we explain:
What an EPC is and when you might need one
What an EPC looks like and what the information displayed actually means
How an EPC is done and who can do an assessment
How much an EPC costs and how long the certificate is valid for
How you can improve the energy efficiency of your property
"Being aware of and understanding your EPC rating is crucial in the current climate," says Ellis & Co's Managing Director, Rob Smith.
"With rising energy prices, understanding your property's energy efficiency rating has never been more important."
To ensure you get the most from your energy supply, learn how to understand your EPC rating (and how to improve it) in our guide.
What is an EPC and why do I need one?
EPC stands for Energy Performance Certificate – a four-page document that tells you how energy efficient a property is and what it might cost to run it.
EPCs rate a property's energy efficiency on a scale of A to G – with A being the most energy efficient and G being the least.
EPCs provide really useful information on what your energy costs might be if you're looking at a property to buy or rent.
Is an EPC a legal requirement?
If you're selling a property or renting one out to tenants, you need to have a valid EPC.
And if you're buying or renting a property, your seller or landlord should provide you with the property's EPC.
EPCs became legal requirements in England, Wales, and Northern Ireland in 2008
EPC when selling a property
When selling your home, you'll need to have a valid EPC before it goes on the market.
The EPC is presented in online listings, so potential buyers can see how energy efficient your property is and how energy efficient it could be with improvements.
EPC when renting a property
If you're a landlord renting out a property to tenants, you must provide them with a valid EPC at the start of their tenancy.
Your property must also comply with Minimum Energy Efficiency Standards (MEES).
Since April 1, 2020, all privately rented properties in England and Wales must have an EPC rating of at least 'E' to be legally let.
Under government proposals, all rental properties will need to have at least a 'C' rating by 2025, with the new rules rolled out to new tenancies first and then all tenancies by 2028.
What is the purpose of an EPC?
An EPC is in place to tell buyers and tenants how energy efficient a property is.
This helps them to factor in energy efficiency and the cost of energy when deciding whether to buy or rent a particularly home.
EPCs also provide recommendations and suggested improvements that could help make your property more energy efficient.
What does an EPC look like?
EPCs are four pages long and are broken up into different sections that tell you:
A property's energy efficiency band from A-G
The property's numerical score
The estimated current costs of heating, hot water, and lighting and the potential costs if improvements are made
Suggested improvements, including projected costs and savings
Energy efficiency ratings from one to five on the property's main elements, including walls, roof, windows, heating system, lighting, and hot water
Details of the assessment and assessor who carried it out
About the property's current heat demand

1. Current and potential energy costs
The first page of an EPC outlines both the current estimated energy costs of a property and the projected costs if improvements are made.
Energy costs in this section only include heating, hot water and lighting and don't factor in additional electricity used to power appliances.
However, the section is helpful when trying to understand how much a property could cost to run were you to buy or rent it.

2. Energy performance
Further down the first page of an EPC, you'll find the property's energy efficiency rating.
The graph shows the current energy efficiency of the property, with a score between 1 and 92+.
Depending on the energy efficiency score, the property will fall into a certain band, rated from A to G, with A being the most energy efficient and G the least.
The graph also shows the potential energy efficiency rating that could be achieved if recommended improvements on page three of the EPC were carried out.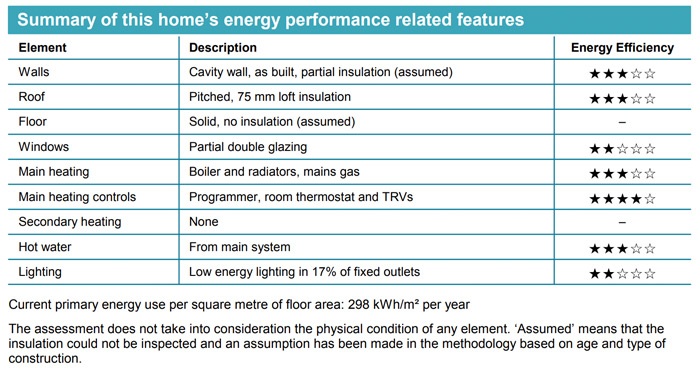 On page two of the EPC, a summary of the property's energy performance features is included.
This rates things like the walls, roof, floor, windows, heating system, hot water, and lighting on a scale of one to five stars, with five stars being the most efficient.

3. Recommendations on improvements
The first set of recommendations you'll find on an EPC come on page one and are titled 'top actions'.
These are the major energy efficiency recommendations you could carry out that would save you the most money.
The table shows how much the work would cost and the potential savings that could be achieved over three years.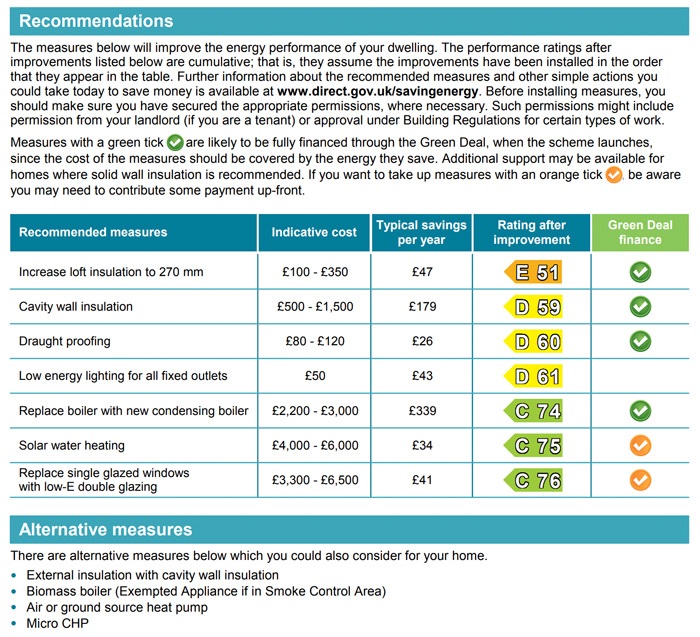 More recommendations can be found on page three of the certificate, including projected costs of the work and the annual saving that could be made.
This table also shows the projected EPC rating after the improvements.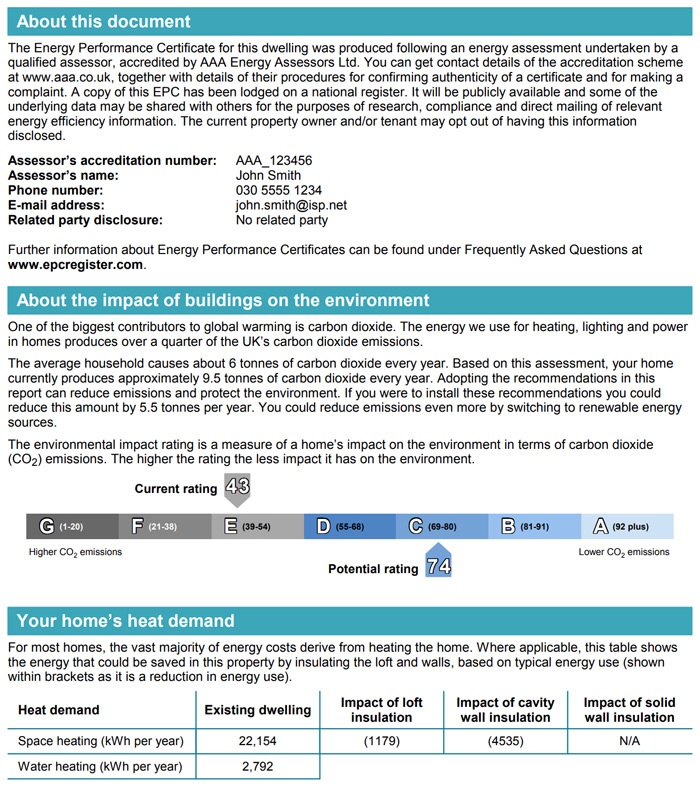 4. Certificate information and environmental impact
The final page of the EPC provides information about the person who carried out the energy performance assessment and where more information about the government's EPC register can be found.
Also on page four, you'll find a rating of the property's environmental impact and how much carbon it emits through its heating, lighting, and power.
This section also shows a potential rating if the property were to switch to renewable energy sources in the future.
How is an EPC done?
An EPC is issued by a domestic energy assessor after they've carried out an assessment of a property.
The assessor will:
Consider the age of the property, style and construction method, and size
Assess the property's heat sources, including gas central heating, electric heating, and heat pumps
Look at the property's insulation
Assess what lighting is energy efficient
Study the property's glazing
Look at the hot water system, including pipes
Consider how airtight the property is
How much does an EPC cost?
There are no fixed fees to renew an EPC, with costs ranging between £35 and £120.
EPC costs depend on various factors, including the size and age of the property being assessed.
Who can carry out an EPC assessment?
EPC assessments can only be carried out by accredited domestic energy assessors.
To find assessors in your area and compare prices, start by looking on the government's official EPC register.
How long is an EPC valid for?
EPCs are valid for 10 years and you only legally need to have one if you're selling your property or renting it out.
However, it can be worth having an EPC assessment carried out once your current certificate expires, as this will highlight potential improvements you could make to your property.
How to improve your energy efficiency rating
There are steps you can take to improve your property's energy efficiency – and many of these will be explained on your EPC:
1. Insulation
"Good quality insulation is one of the best and often most cost-effective ways to immediately improve a property's EPC rating," says Rob Smith.
Insulation you could consider includes:
Loft insulation
Floor insulation
Cavity wall insulation
2. Good quality glazing
Double glazing is significantly better at keeping more heat in your property, reducing the need for heating, and lowering both your bills and your carbon emissions.
Again, windows can be relatively cost-effective way to boost your EPC rating and the money you could save over time may even eventually pay for the installation.
3. Replace old lighting with LEDs
While replacing lighting might seem like a small improvement to make, it can have a big impact on your property's EPC rating.
If your property is right on the margins of a higher rating, replacing old lighting with modern, LED lighting could be enough to lift it into that higher band.
4. Install a more efficient boiler
Heating systems are a major part of any property's energy usage and installing a more efficient boiler could make a big difference to your EPC rating.
The cost of a new boiler isn't low, but it's one of the best ways to raise your EPC rating substantially.
5. Consider renewable energy systems
Another major part of any EPC is the environmental impact rating and the best way to improve this is through renewable energy.
Ground and air source heat pumps will eventually become the norm. While the cost of these systems can be substantial, it's likely the government will offer incentives as they look to meet their carbon targets.
Further reading…